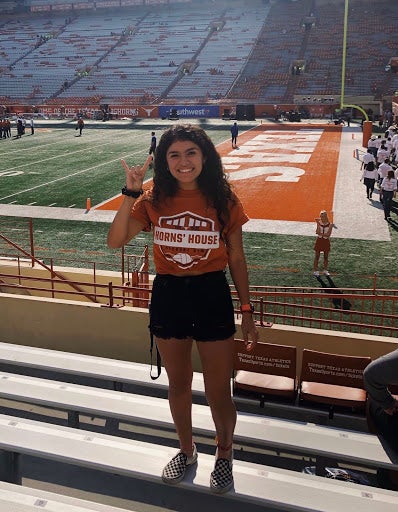 School is like practicing karate for journalism sophomore Jackie Ibarra. It is challenging, but offers the opportunity to learn something new each day.
Growing up in San Antonio, Texas, Ibarra found her passion for education at the dojo, where she learned a new fighting kick, punch or combo every visit. Karate has also helped Ibarra beyond books and studies, teaching her persistence and courage — values she says are important for first-generation college students like herself.
"It takes a lot of courage to be a first-gen because it's really scary to come into school and not know what to expect, or not even know what questions to be asking people," Ibarra said. "(School) has its challenges, but I really do like that I have the opportunity and the privilege to come to a university like UT, especially being a low-income student and being first-gen. … I feel like I've grown a lot as a student, but (also) as a person because I'm in the setting that allows me to do that."
Ibarra considers her family and Latinx community as encouragement for school. Her mother is one of her greatest supporters and inspirations, showing Ibarra how to be a Longhorn when she was eight years of age by gifting her a Bevo pillow pet.
"Every time I feel discouraged I think of my family, and I'm just like 'I gotta do it for my mom' who sacrificed so much to put me through school and helps me out in any way she can," Ibarra said. "If she were here, she would do whatever she can to do her best, and that's what makes me want to keep going because if she doesn't know the answer to something she'll figure it out on her own, and that's something I try to do. Luckily, I have the privilege of having other peers and stuff and my mom didn't have the privilege to come to school."
"A lot of things are stacked against" first-generation college students, Ibarra said, mentioning many Latinas do not have the opportunity to finish college. Ibarra said she hopes after graduating she can continue to amplify Latinx voices through audio storytelling and end up at National Public Radio.
"It is very empowering when you are able to excel in institutions that weren't created for you," Ibarra said. "You don't even have to be making straight A's or whatever, as long as you're finishing it and doing the thing a lot of people don't think you can do—that makes me feel like I'm on top of the world. There are a lot of things that aren't supposed to go your way and a lot of first-gens don't make it out, and if you are even doing (college) and turning in homework, then you're already halfway there."
Jackie Ibarra Q&A
What unique perspectives can first-generation college students have? They give a fresh pair of eyes, and for me, it was seeing a lot of the barriers with education.
I saw the difference in schooling coming from my high school versus the other people I was surrounded with that had high schools that were top notch. Not everyone goes to a high school like that or gets that same education background, and that's something I was able to see as a first-gen, and I saw how that plays into coming to school and coming to UT.
What advice do you wish someone had told you before coming to college? How big imposter syndrome can be, but how it's also normal to feel that way. I wish someone would have said, "You're going to feel out of place, but you belong there." That's something I would have benefited from because it's still something I struggle with.
No matter what schooling other people have or how many internships someone already has before they even get to UT, you'll be fine. Run your own race, and you'll finish when you finish. Whatever it is that you have to do to get to the end, do it, but don't beat yourself up for not having control of where you came from and be proud of where you come from. Take that with you, but also use that as a strength and not as a weakness.
Who do you hope to inspire by graduating from college? My mom because sometimes she says things like, "It's too late" or "It's just too much money" or "It's too much this, and it's too much that." I hope when I graduate, she can see that as long as you put your mind to something, no matter how long it takes or how expensive it is or how many barriers are put in place, you can do it.
I also hope that I can at least reach one person from my community or some little girl out there who feels like they're not smart enough to go to UT or excel at UT. I wish that hopefully when I graduate they can think, "Well if she can do it, I can do it."
What on-campus resources should students take advantage of? If you're in journalism or into any media, take advantage of organizations because it does make a difference. Especially like the Daily Texan, where you can get hands-on experience or places like Latinitas.
There's a lot of resources in Austin you can dabble in, and I would say, take advantage of those. Because, like me, I know I can't really afford to take an internship when I have to save up and have to have a job and money to buy things.
Also, take advantage of the office hours professors hold because they truly want to help, and especially in Moody. They love talking to you, and I found a lot of refuge in good professors here.
What tips do you have for managing time and stress? Set aside time for yourself and take care of yourself because it's easy to get consumed in studying and then going to work and then coming back to study some more. I definitely did not take enough time for myself, and it definitely impacted my mental health.
Do your responsibilities, do what you have to do, but also make sure you include taking care of yourself as one of those responsibilities. Whether it's an hour or 30 minutes out of the day to go on a walk, or read a book or watch TikTok, do something that's going to bring you some joy. You're not going to have the fun you're supposed to have in college and benefit from anything if you're not taking care of yourself.
I know it's hard to balance everything and the biggest way to balance that is there are planners and Google Calendars, but including that time to take care of yourself is something that should be a priority to you.
How important is the representation of first-generation college students on college campuses? It's important to have that representation because, without it, it feels like we're alone in a sense.
When I see first-gen professors, I'm like, "Ah, man, I belong here," like "I can do it." But when there isn't that representation, it makes it even scarier to be here.
It's kind of hard to keep going when there are no examples of people who've done it. First-gen representation helps comfort me in a way because it makes me think, "Okay, they did it, I can do it" or I can even go to them for help or ask for advice.
What do many people not realize about first-generation college students? If you see a first-gen person tell them "I see you, I know you're working hard." Give them a pat on the back or a high five because a lot of times people don't know we're really working twice as hard as a regular student because we don't have a lot of the same resources other students have.
I can't ask my mom what something means, or how she did it, or how she studies. I kind of have to just figure it out on my own.
The amount of work we put in is a lot and it's exhausting, but it's also very rewarding. Any type of encouragement like "Yeah, you did great" goes a long way for people like me.
—
Originally Published at Moody College of Communication
Photo Credit: Courtesy of Jackie Ibarra